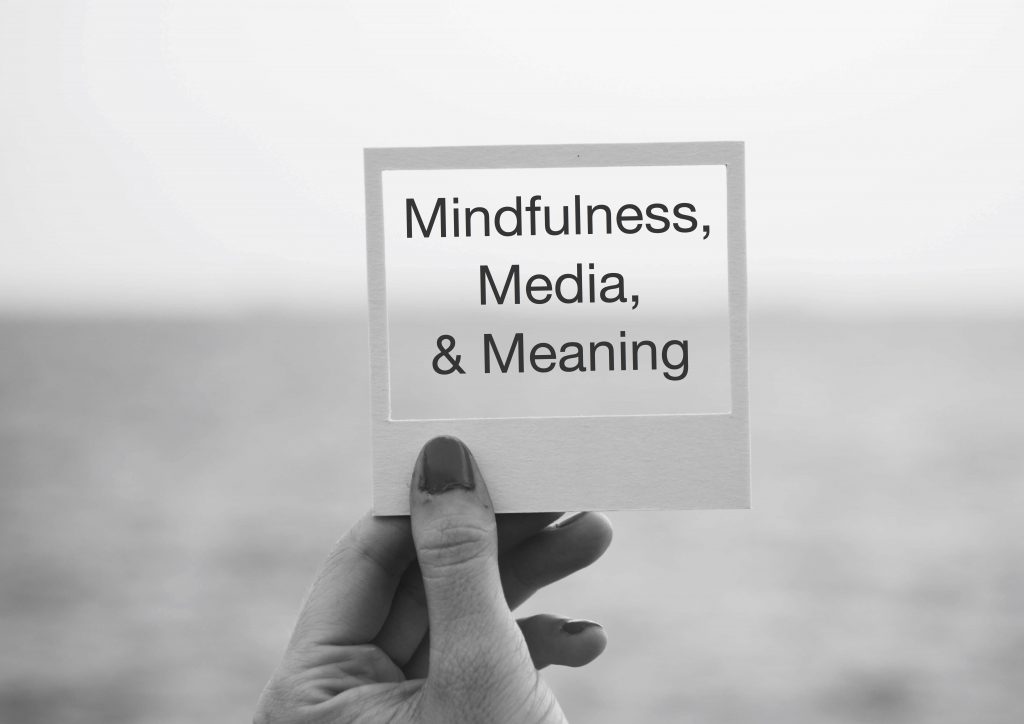 "It takes courage….to endure the sharp pains of self-discovery rather than choose to take the dull pain of unconsciousness that would last the rest of our lives."
― Marianne Williamson ―
Mindfulness, Media, & Meaning: An Online Exploration
Join me from the comfort of your home for this online exploration of self. Yes, that is correct. Self. An exploration of YOU. By YOU. For YOU. There is nothing self-indulgent here. We are setting out on a journey to learn more about who we are, where we have come from and who we long to become.
For the past 25 years, I have diligently walked the path of self-discovery and healing. At times it has been quite intentional as when I studied practices such as yoga, meditation, and nutrition and at other times it has been more of a reaction to the circumstances of my life – breakups, illness, and loss. With a growth mindset, any life experience can become an opportunity to peel back our layers, connect with greater authenticity and live life with more precision and joy.
For 2019, I'm inviting you to join me as I explore themes such as what it means to "be seen" and "who gets to belong". These are questions that are very present for me right now in my life but we also see it emerging/re-emerging in larger cultural conversations such as the #metoo movement, #blacklivesmatter and socially and politically for our immigrant and LGBTQ friends.
Through the use of media (movies, blogs posts, photography, podcasts, scientific articles, music, TedTalks, poetry, etc) we will spend the year exploring the questions "what does it mean to be seen" and "who gets to belong". We will use journaling, meditation, one-on-one coaching and group sharing to peel back the layers and live that question more mindfully and intentionally.
How does it work?
In 2019, we will explore questions such as "What does it mean to be seen?" and "Who gets to belong?"
Every other month (approximately) I will launch a two-week course using a movie as a focal point for our discussion. All movies will have a strong female lead character.
Participants register and pay for each two-week course separately depending on their schedule and interest.
After you register you will be added to the private Facebook group (optional). Once you have participated in a two-week course you can remain in the Facebook group for future discussions (even if you do not register for future courses). A large part of this program is creating a community and that is why the private Facebook group remains open to you at no charge.
Once a course has launched, registered participants will have a week or so to watch the featured film. You can choose to view the film alone, with a friend, or you can host a "watch event" at your home. All of the films selected for the course will be available online for purchase or rental (cost not included in the price of course).
After viewing the film you will begin receiving reflective journaling prompts in your inbox every other day for a week (date to be specified). These prompts will reflect content from the movie and will be delivered along with supporting materials for you to engage with at your own pace.
Each course concludes with a one-on-one coaching session with me (one-hour). During this time we will review what you discovered about your own story and what excites you about your next chapter.
During each course, there will also be at least one optional group meditation via zoom. These will be recorded if you cannot make the live event.
This is a generative learning experience. I have constructed a container for each segment but it is filled by the participants and is a reflection of what is shared by each group. All content offerings and resources will be documented online for a year-end group reflection and to plan for the 2020 series.
Scholarships will be available for each course. Please contact me if receiving a discounted price would make this more feasible you. I will do my best to include everyone who is interested.
Why the movie focus? I considered a book group theme but there is something inviting about sitting down to a movie and knowing you can begin and end the story in one sitting. People's lives are busy and not everyone can make it through five books a year. The beauty of this approach is that other resources will be shared during the course so participants can explore more on a topic if they have the time and desire to do so. Besides, who doesn't love a great movie?
Please spread the word if you know someone who would be interested in this exploration.
Who should sign up?
This exploration is designed for anyone looking for a partly curated, partly generative approach to learning more about themselves and the world around them.
Ready to sign up?
You can pay for a single class or you can pay for the entire series. Use the drop-down menu below to make your selection. When you pay for the 5-part series you save over $100. Click 'Buy Now' to be redirected to Paypal. This transaction will appear on your statement as PayPal * MOREVOICESLLC.
"Because true belonging only happens when we present our authentic, imperfect selves to the world, our sense of belonging can never be greater than our level of self-acceptance."
― Brené Brown ―